Narrative Writing Help
Students engage in narrative writing so that they can be able to showcase their imagination, creativity and other skills. At Edudorm, we guide students by offering narrative writing help for their essays. Students seek narrative writing help from Edudorm so that they can get affordable high quality essays that are 100% plagiarism-free.
Order Narrative Writing Help
Exclusive Narrative Writing Paper Features
Free for Narrative Writing Help
How Does Our Narrative Writing Help Service Work?
Fill out the order form specifying your paper instructions
Proceed to deposit funds for your order using a secure payment method
We will assign the best writer to start working on your paper
Track the process of writing and download the final version of your paper
Get Your Narrative Writing Assignment Done Now
Get professional narrative writing help from Edudorm narrative writers. Just submit your paper instructions to get started.
Narrative Writing Help Service
The Narrative Writing Help Online
Narrative writing is a learning method that offers students an opportunity to share their imagination, creativity, skills, and understanding of various different elements of writing.
Edudorm assignment experts provide students with narrative writing assistance online where we help them tell a story in accordance with the guidelines their teachers have given them.
Our narrative writing help experts have many years of experience in writing high-quality stories, so they can always help students with any topic they want to write about.
The main purpose of creative writing is to engage the audience by telling a story that can be motivating, educational, or entertaining. Narrative writing can be a true story or even fiction.
Edudorm assignment experts provide narrative writing help to students with the aim of guiding them on how to write good narrative essays and improve their grades.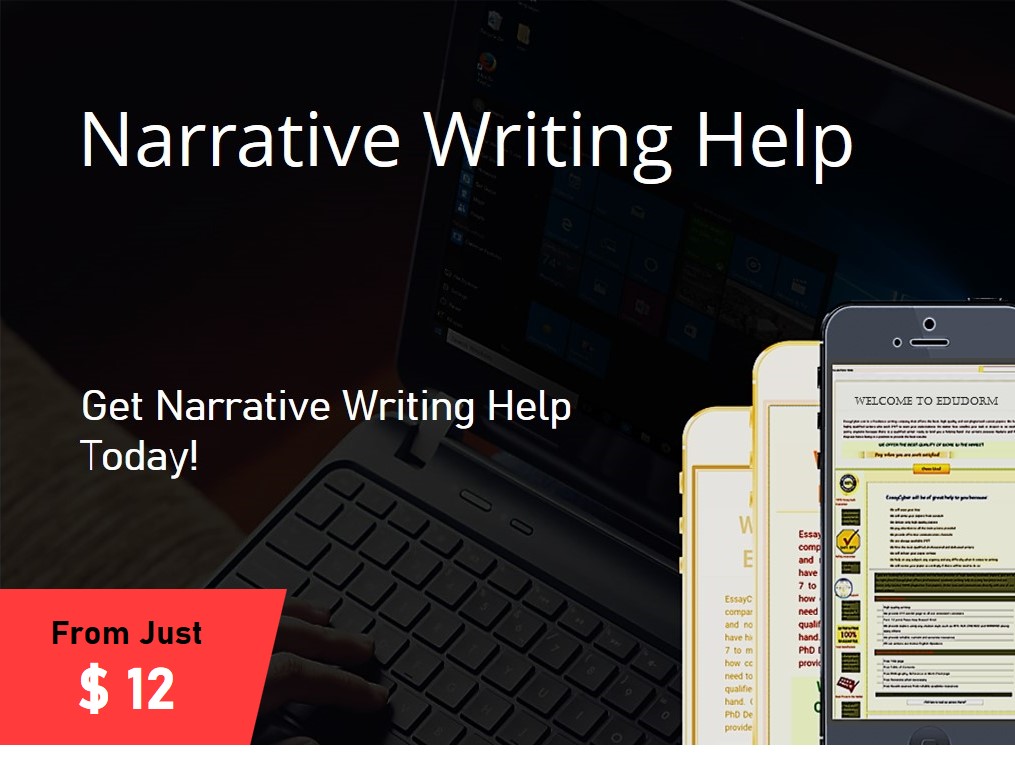 How to Write a Narrative Essay, Step-by-Step
When it comes to how to write a good narrative essay, there is a recommended way of writing.
The following is a step-by-step guide on how to write a narrative essay:
Choose a good topic

The first step we consider as Edudorm assignment experts when offering narrative writing help is choosing a topic for the story that you intend to tell your readers. An eye-catching topic is always a good way to entice your readers and keep them interested and eager to read more about the story.

Writing process

The writing process is the most critical part of narrative writing, and it is also a time-consuming process. When offering narrative writing help, Edudorm assignment experts always start with a draft. The draft should include an outline, which is a road map of what to include in your narrative essay. The outline and structure of your narrative essay should include an introduction, the body, which is the main part and climax of your essay, and a strong conclusion.

Editing

Once you are done with the draft of your narrative essay, it is recommended that you re-read the essay out loud so that you can check for any writing errors. Checking and fixing the few rough spots is referred to as editing. The Edudorm.com essay writing website is a great platform when it comes to providing narrative writing help and editing services. Our essay writers know that editing entails checking the content, style, and paragraph structure of your essay.

Proofreading

The last step in narrative essay writing is to proofread. This step entails checking for any grammar or spelling mistakes. One is required to replace any misspelled words with the correct ones.
How to Write a Narrative Report
When offering narrative writing help, Edudorm assignment experts have a way of organizing ideas into a great narrative report.
The following are tips for writing a great narrative report:
Orientation

The first tip is called orientation, which includes setting the scene and mood of the narrative story and introducing the characters. This means that for a good narrative essay introduction, one needs to include when, where, who, or what details in relation to the narrative story.

Complication

The second tip on how to write a narrative report is to include the complication. This is all about including a dilemma or problem that creates a map of the sequence of events relating to the story. This is the part that makes the narrative essay interesting.
A sequence of events

This tip that Edudorm assignment experts consider when offering narrative writing help is drafting the sequence of events that have been identified, as explained in the complication tip. This means that the writer provides a description of the events as they occurred. More so, one is required to provide a sequence of events in relation to each of the characters in the story. One can also include the combination of the sequences as they happened.

Resolution

This is the conclusion part of why one is required to provide a climax to the narrative report. When offering narrative writing help, Edudorm assignment experts describe the final outcome in relation to the narrative story. 
Why Students Seek Narrative Writing Help from Edudorm.com
Edudorm.com is an essay writing service that is so dear to students because it provides professional and trustworthy writing help.
The following are some of the reasons why more than 100,000 students trust us when it comes to writing their narrative essays and narrative reports.
High-Quality Narrative Essays

Edudorm Essay Writers have made a name for themselves by providing the best narrative writing help among other writing services. Our writers have mastered the art of writing high-quality narrative essays that will definitely improve your grades.

Plagiarism Free Narrative Essays

Our writers recognize that plagiarism is the worst thing that can happen to a student, and therefore, they always make sure that once you seek narrative writing help, your essay is original and plagiarism-free. Once you order a narrative essay at Edudorm.com, you can always request a plagiarism report as proof of original content.

Affordable Narrative Essays

Edudorm.com gives students the opportunity to seek narrative essay writing help at an affordable and reasonable price. Our narrative essay writers do not focus on money, but they have the passion to see students score high grades on their narrative writings. This is why Edudorm offers a cheap narrative essay writing service.
Narrative Writing Help Cost
Find out the cost of having your narrative essay completed today!
Narrative Writing Examples
At the Edudorm essay service, we provide many free narrative writing examples to students who want to improve their writing skills. You can check out our website to see all the examples that we have provided.
However, we always encourage students that if they want narrative writing help for their essays to be written from scratch by our experts, they should place their orders using the form we have provided on our website.
By doing so, students can always be sure that their narrative essays will be written as per their exact instructions and will be 100% plagiarism-free.
The following are some of the narrative writing examples or areas that you can seek for writing help at Edudorm.com:
Narrative essay introduction
Personal narrative essay
Narrative essay topics
Narrative writing means
Narrative writing help resources
Problem in narrative writing
Narrative mode of writing
Narrative writing about love
Narrative Writing Help Tips
In order to write a high-quality narrative essay, Edudorm essay writing experts always advise students to keep their wording clear. This means that your content should be easy to read by avoiding complex words and syntax.
If students, consider getting narrative writing help from our experts, they will receive professional assistance on how to balance the details they want to describe in their narrative essays.
We also advise students to use the first person when writing their narrative essays. Using first-person pronouns helps the reader engage with the narrative story you are writing.
Another great narrative writing tip is that one should limit the use of references. Since narrative writing should be written in first person, it is always important to consider using minimal references if it is a must to include them in your essay.
Whenever you feel overwhelmed when writing your narrative essay, you can always seek writing help from Edudorm experts, and they will write a high-quality paper that will improve your grades.
FAQs About Edudorm's Narrative Writing Help Service
Why Do Students Seek Edudorm's Narrative Writing Help?
Why Do Students Seek Edudorm's Narrative Writing Help?
There are many reasons why thousands of students from different parts of the world seek Edudorm's narrative writing help.
One of those reasons is that they want to understand how to write a good narrative essay.
The other reason is that some students are not able to write long essays, so they seek out expert writing help.
Other students are not able to express themselves in writing, especially those whose English is not their first language.
Other students might be pressed by time, and hence they seek professional writers at Edudorm so that they can meet their deadlines. Other students make many errors when writing since they are not able to choose the right words for their narrative essays.
No matter the reason you have to seek narrative writing help at Edudorm, we will listen to you and provide all the necessary assistance that you need.
Who Will Do My Narrative Essay at Edudorm Writing Service?
How Much Do You Charge for Narrative Writing Help?
Get Help With Your Narrative Paper
Order narrative writing help and get the best solutions for all your narrative assignment papers. Edudorm.com guarantees high quality narrative papers.